2018 Decorating Trends: Vintage Goes Modern
nce the dogwoods start blooming, and that nice green grass shows its happy face, I'm ready to throw open my windows and let my house breathe. A little spring cleaning and organizing is inspiring for me. I can just hear my home begging for a fresh new look. Since I'm in the design business, this gets me thinking about the latest looks and trends in decorating. Every year it seems a few new looks find their way into all the design blogs and magazines that stay stacked up by my favorite reading chair. Let's look at some trends that may get you on board with giving your home a refreshing new look for Spring.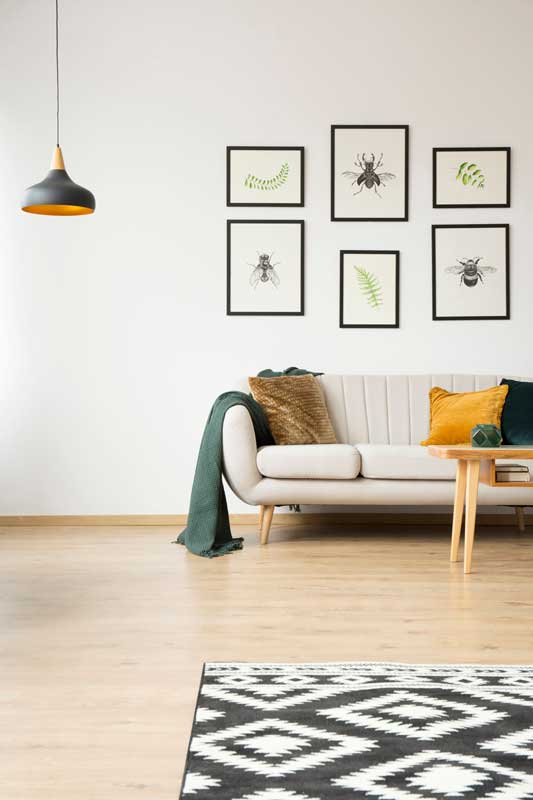 Color. Yes, color. It's back. If you have followed the design blogs, HGTV, and magazines the last few years, you will see color has been in hiding. Everything has been beige, cream, oatmeal, white, off-white, bright white, dark white. You get the idea. Now don't get me wrong, neutrals will never be out of style. I'm not going to advise my design clients to invest in a purple sofa, but color is finding its way back into our homes. Even those crazy 80's and 90's shades like dusty rose and country blue are coming back in a fresh incarnation. Think millennial pink and smokey blue with a sophisticated grey undertone. Yes, you can keep your oatmeal sofa and grey chairs; just add a pillow in a beautiful blue and green floral or a throw in the softest of rosy pink. A touch of color can make a neutral room sing.
While we are talking color, jewel tones are returning to the market. Three of the forecast colors for 2018 are jewel tones. Benjamin Moore Paints chose Caliente, a rich, deep red, as their Color of the Year. This shade is beautiful as a background for bookcases, in pillows, or even as a rug. Consider it for a banding accent on a neutral linen curtain. Pantone's color of the year is UltraViolet. Since I've never been a purple girl, I am struggling a bit with this one. Maybe I will come around to it. We shall see. Sherwin Williams Paint chose Oceanside this year. Imagine emerald green meets sapphire. Now that's a color I can get on board with.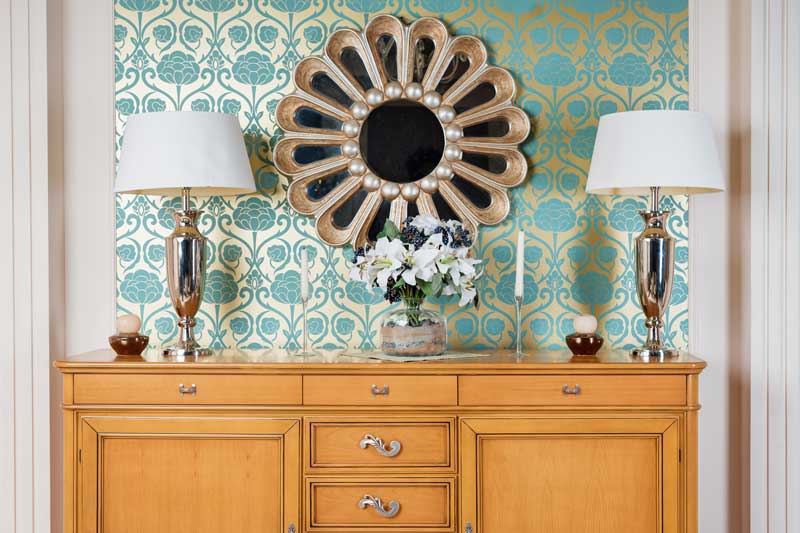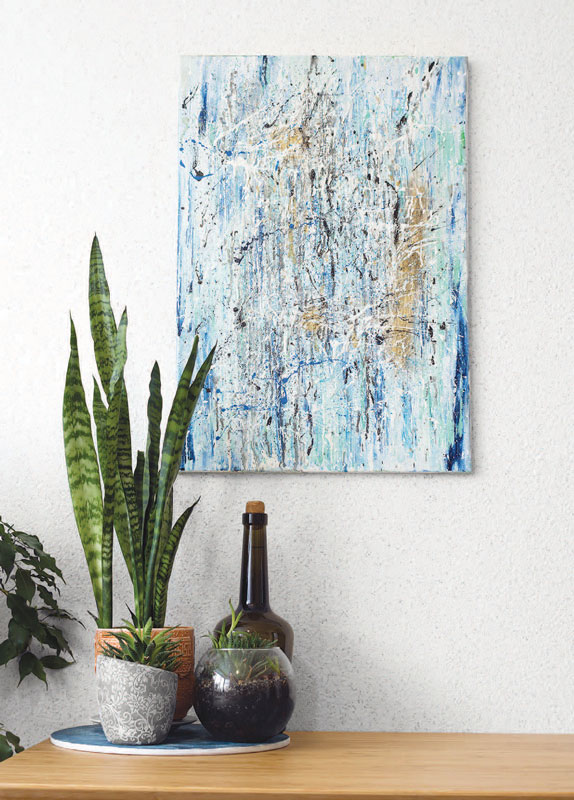 Color makes me think of another trend just beginning to be seen again: floral. Not grandma's old fussy floral, but bright, crisp, fun floral prints of the future. Perfect in small doses, floral works well for pillows or even as a wallpaper accent wall. Not the dusty, musty florals of old; think clean and modern. They truly can add a sophisticated touch.
Now, let's talk wallpaper. Does that scare you a little? Again, we are not talking about granny's duck and chicken wallpaper borders from the 80's. Wallpaper today can be anything you want. Grasscloth texture, metallics, geometric, even those floral prints we were talking about, but in an updated modern way. Maybe you are afraid of an entire room of floral wallpaper. How about an accent wall in a soft tone on tone floral like the one I just did in my guest bedroom? It's such a creative way to add another layer to your room. I've always used and loved wallpaper and I don't see that changing anytime soon.
The farmhouse and industrial looks have been with us for a while. Fixer Upper has proven a true design phenomenon. Now, I love Chip and Joanna just like everyone else, and I don't see that look going away anytime soon, but the trend is evolving to add more handcrafted and artisan touches to make it your own. By adding your own touches you are personalizing the look and adding character. What you don't want is to appear that you went to the nearest big box store and bought every piece of the "fixer-upper" style you could find. Add your own family heirlooms, artwork, and crusty pieces from the attic. Make it your look.
As an artist, another trend I see that is near and dear to my heart is original art. If you truly want to make a statement in a room, add a large piece of original art. Whether an abstract piece, impressionist painting, or maybe framed doodles the kids made, art is the most personal way to make an impact in a room. The bigger, the bolder, the better; especially in a neutral environment. It doesn't always have to be expensive either. There are so many artists out there that are reasonably priced. Another option is for you to pull out the paints and give it a try yourself!
Last, but not least, is a trend I see as pulling all of these together. I like to think of it as a "classic but updated" look; traditional with a twist. Start with all neutral furniture in a clean modern profile, pull in pops of color with a rich red or blue-green on your curtains and pillows, all sitting on a colorful rug and playing against a backdrop of textured grasscloth wallpaper in a soft grey. Add a large piece of modern original art, mixed with some personal family pieces arranged on the mantle and side tables. Finally, bring in another trend from the past that is having a resurgence and that I personally love: burnished brass. In a wall sconce, mirror frame, or as an interesting lamp it adds warmth and a timeless sense of patina. There you have it: a warm, layered, and well-seasoned room that you can call home.

Reesa Milton is the owner of Perfect Home on Shorter Ave., which has been creating classic comfortable homes using their collection of accent furniture, art, and accessories, as well as window treatments, bedding, and rugs. She is also an impressionist and abstract artist creating custom commissions for her design clients and store. You can reach Reesa at reesa.perfecthome@gmail.com, or find her on social media. Facebook: Reesa Milton Art and Perfect Home of Rome, Instagram: @perfecthomeofrome and @reesamiltonart