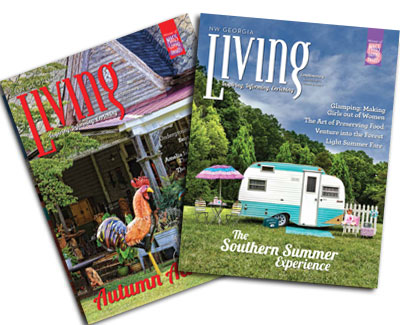 NW Georgia Living is the definitive lifestyle guide featuring food, fashion, decorating, artists, advice, regional events and travel.
• NW Georgia Living is a bi-monthly publication, giving us a longer shelf life over a monthly publication.
• We offer a premium publication with quality design, always featuring a beautiful eye-catching cover that appeals to men and women alike.
• NW Georgia Living is delivered to four counties within the region. Our primary distribution is in Bartow and Floyd counties. This is due to a larger population and medical focus, particularly in Floyd county. Secondary distribution areas are Polk and Gordon counties.
• We strategically place our magazines in busy medical, dental and veterinary offices, restaurants and retail outlets where customers demonstrate a higher level of disposable income.
Features
Articles include Featured Restaurants, DIY Projects, Day-cations and Travel Articles, Adventure, Hobbies, Featured Artists, Entertaining, Advice, Decorating, Recipes, Regional Non-Profits and Latest Trends.
Departments
Our primary target market is Women 30+. Secondary market is Men 40+. Estimated readership is 80 percent are female and 20 percent are males. It's surprising how many men look forward to the new recipes in NW Georgia Living!
Circulation
10,000
Print Readership
20,000
Frequency
6x per year
Rate Card
Click here to download our rate card.
Deadlines
NW Georgia Living is published bi-monthly: