Dishes from Around the World
hese dishes highlight some of the terrific taste combinations our neighbors around the world use in their cuisines. You'll feel like you're traveling the world without leaving home when you enjoy these dishes!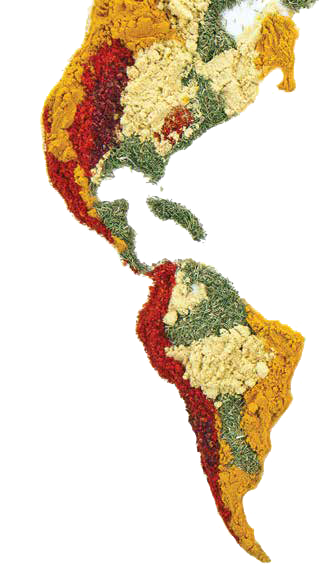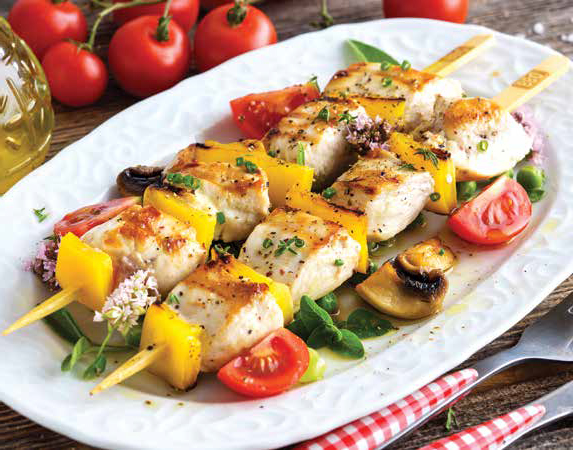 In a small non-reactive saucepan, whisk coconut milk with lime juice, ginger, garlic, fish sauce, sesame oil, sugar, soy sauce, crushed red pepper, and salt. Bring to a boil over moderately high heat and boil for 1 minute. Set aside to cool.
Cut chicken and bell peppers into 1 . inch pieces. Set bell peppers aside and marinate chicken pieces in the coconut mixture for at least 30 minutes, preferably for an hour. Remove chicken pieces and reserve marinade.
Place pieces of chicken and bell pepper alternately on 10 to 12 wooden skewers. Place skewers in a large glass baking dish. Pour marinade over the skewers. Cover with Saran wrap and place in refrigerator until ready to cook, up to 24 hours.
Remove skewers from marinade. Broil approximately 6 minutes, turning once, until chicken is cooked, or cook over a gas grill at medium high heat for 6 to 8 minutes, being careful to avoid flare-ups.
THAI MARINATED CHICKEN KEBABS
Serves 4
Serve the kebabs with a side of jasmine rice topped with toasted coconut and lime zest.
1 14 oz. can coconut milk
½ cup lime juice, fresh (4-6 limes)
2 Tbsp. ginger root, minced
2 garlic clove, minced
2 Tbsp. Thai fish sauce
1 Tbsp. sesame oil
2 Tbsp. sugar
1½ Tbsp. soy sauce
½ tsp. crushed red pepper
¼ tsp. salt
1¾ lbs. chicken breast,
boneless, skinless
2 large red bell pepper
1 large yellow bell pepper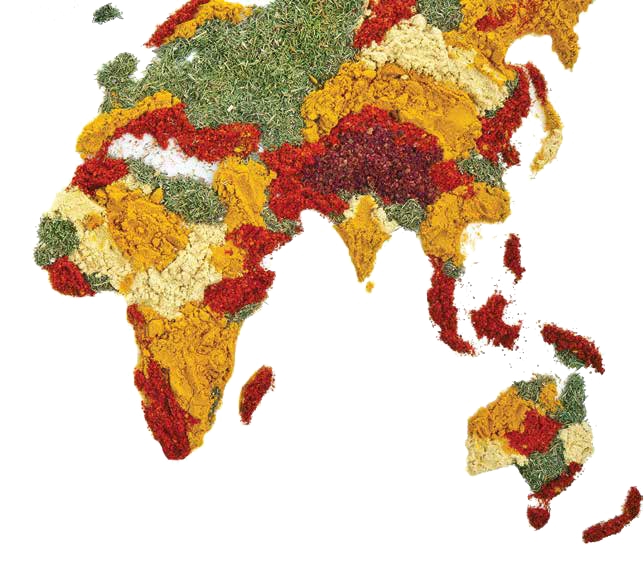 AVGOLEMONO (GREEK LEMON AND EGG SOUP) WITH CHICKEN AND ORZO
Serves 6
 Add a green salad and some crusty bread for the perfect international meal!
1 cup orzo
2 shallots, finely chopped
1 garlic clove, finely chopped
¾ tsp. kosher salt
¼ tsp. black pepper
1½ Tbsp. extra-virgin olive oil
8 cups low-sodium chicken broth
3 cups cooked chicken (from 1 rotisserie chicken)
2 large eggs, at room temperature
⅓ cup fresh lemon juice
¼ cup chopped dill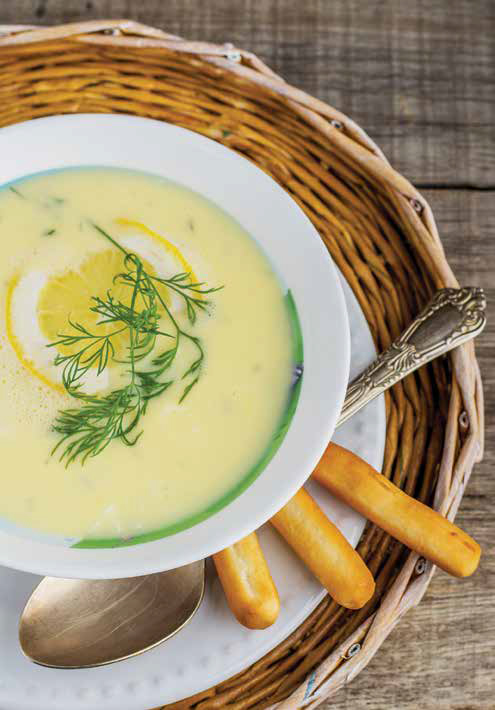 Sliced lemons, for serving
Fresh parsley, coarsely chopped, for serving
Cook the orzo according to the package directions. Drain and reserve.
Meanwhile, cook the shallots, garlic, salt, and pepper in the olive oil in a large pot over medium heat, stirring occasionally, until the shallots are softened, about 10 minutes. Add the broth and chicken. Simmer 10 minutes. Remove 1 cup of hot broth in a heatproof measuring cup.
Beat the eggs and lemon juice in a bowl. Slowly add the reserved broth to the bowl, whisking constantly. Stir into the soup.
Stir in the orzo and chopped dill and serve immediately, garnished with sliced lemon and fresh parsley.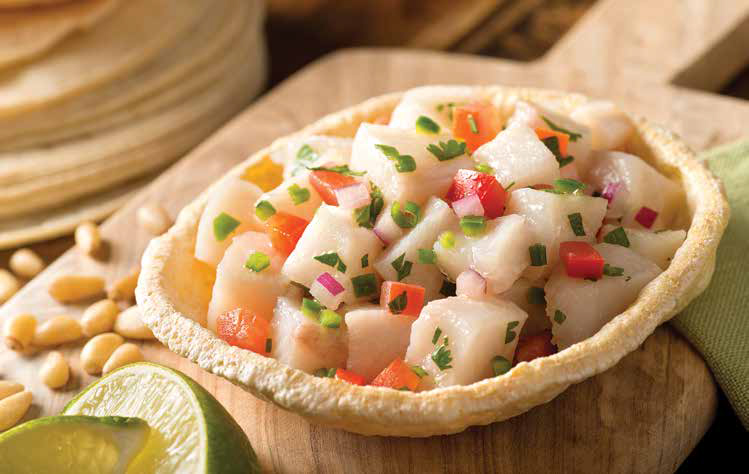 Place the diced raw fish in a large bowl or dish with the sliced hot peppers, garlic cloves, a tablespoon of chopped cilantro, 1-2 teaspoons of salt, and cover it with lime juice from about 10 limes. The fish should be completely covered by the lime juice. Cover the bowl with plastic wrap and refrigerate it for about 3-4 hours for it to "cook".
Place the sliced onions or shallots in a bowl, sprinkle them with a few teaspoons of salt and add warm water (enough to cover the onions). Let rest for about 10 minutes, drain and rinse well with cold water.
Combine the rinsed onions, diced tomatoes, and diced bell peppers. Add the juice from 5 to 8 limes, according to your taste, and some salt. Let this mix marinate for at least 10 minutes; it can also be prepared ahead of time and refrigerated until ready to mix with the fish.
Once the fish is "cooked" in the lime juice (it should be completely white) remove the sliced hot peppers and garlic cloves. Based on your preference, and the acidity level, strain off a bit of the lime juice. If needed, you can strain the liquid to remove any pieces of hot peppers (or seeds) or garlic.
Add the marinated onion or shallot, tomato, and bell pepper mix to the fish. Add the chopped cilantro, oil, salt and additional lime juice to taste. You can serve immediately or let it rest for another 20-30 minutes before serving.
Serve in a large bowl with chips, or put in individual small bowls and serve with spoons.
ECUADORIAN FISH CEVICHE
Serves about 8
 There is a lot of chopping and squeezing in this recipe but it's totally worth the work.
Note: The fish is "cooked" in acid from the lime juice, rather than over heat, so this may not be a dish for people with sensitivity to under-cooked food.
22 lbs. of white fish fillets (such as corvina, halibut, sea bass, tilapia, mahi mahi, snapper), cut into small square pieces
2-3 hot peppers (red chilies, jalapenos, or serranos) sliced
2-4 garlic cloves, whole but gently crushed
2-3 small red onions or 4-5 large shallots, peeled and finely sliced
4 tomatoes, diced
2 bell peppers, any color, diced
15-18 small to medium sized limes, about 10 limes to cook the fish and 5-8 limes for the onion and tomato marinade
1 bunch of cilantro, chopped as finely as possible
2-3 Tbsp. of oil
Salt to taste
Tortilla chips or plantain chips for serving

Kathy Patrick owns Meals on Heels, a personal chef service. Kathy makes entertaining in your home fun, easy and delicious! Enjoy hosting dinner parties, holiday occasions, and other special events with Kathy's expertise. Kathy is happily married to party Cipollini. She enjoys herb gardening and exercising. Reach her at greatfood@mealsonheelsga.com.