International Flavors Close to Home
here I was, in Tuscany with my husband, enjoying fine aged salamis, local prosciutto, and a variety of olives, all served with a fantastic Chianti on a tiny patio overlooking vineyards and flower-adorned stone pathways. As the sun warmed our shoulders, I thought to myself life can't get any better, as we clinked our glasses in a toast. Experiences like these have fueled a continued desire in me (and us) to explore the world and its culinary delights.
Countless memories of my travels revolve around fun events, gorgeous scenery, interesting places, hilarious unknowns, and fascinating local customs. Of course, there's the food: fantastic food, "weird" food, things I'd never eaten before, and so many delicious new taste combinations. It's an education unto itself to learn what other folks eat, as well as when and where they eat. Traveling shows us food and customs that are different from what we're used to and gives us new ideas we can take home to share at our own tables.
Northwest Georgia has a great variety of locales which can sate the desire for a travel experience. Even if I can't jump on a plane tomorrow, I can hop in the car today to discover amazing food in a worldly setting; somewhat of a "mini-travel" experience. International flavors close to home can be the next best thing to a faraway vacation!
Here's a taste of some of my favorite international flavors in our neck of the woods:
Le Fat
935 Marietta Street, Atlanta, GA 30318 Open daily 5 pm to 10 pm, Fridays and Saturdays until 11 pm
Opened in 2015 by Guy Wong, Le Fat features classic Vietnamese cuisine with influences from Chinese and French flavors. Its stylish decor, as it says on the menu, "… pulls from Vietnam's French-colonial history in an attempt to recapture the beauty, romance, and joie de vivre of Southeast Asia from the 1920s." With two rooms, an outside patio area, and a full bar, Le Fat is family-friendly yet a fun place for date night. Le Fat's reasonable prices mean it's a great place to go with a group to order different dishes for sharing; tasting a variety of dishes was a high point for our table of four.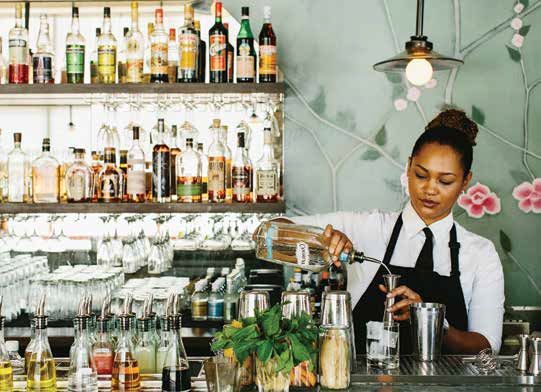 Craft cocktails are a specialty at Le Fat.
Specialties include appetizers like Banh Mi Bao, which is a Vietnamese sticky bun filled with pork belly, carrot, and daikon, cilantro, and jalapeno, or Goi Cuon which are Summer Rolls with shrimp, pork, herbs, and vermicelli. Wonton Dumplings are more of a Chinese influence and are filled with diced shrimp and pork in a crimped flour wrapping with sesame and chili oil and a sweet soy vinaigrette. Delicious main dishes feature Bo Luc Lac, or Shaking Beef, which is seared angus, spring lettuce, jus vinaigrette – the "shaking" comes from tossing the meat in the wok after it's been seared to quickly finish cooking and soak up the flavors in the pan.
Dau Que Xao Cay, or Spicy Stir-fried Green Beans, have minced pork, garlic, and XO chili oil which is made from dried chopped seafood then cooked with chilies and garlic. Ca Ri Ga, or Vietnamese Curry Chicken, is braised in a mild madras curry sauce and served with carrots and potatoes. Follow up dinner with one of the many house-made pastry dishes and feel as if you've traveled across the Pacific Ocean and back in time.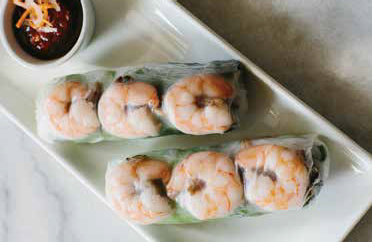 Try the Goi Cuon Summer Rolls with shrimp, pork, herbs and vermicelli at Le Fat.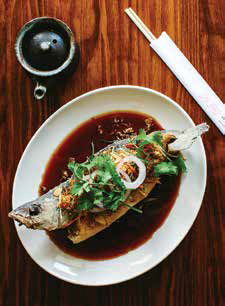 Ca Cien Nguyen Con is one of the specialty dishes at Le Fat.
Der Biergarten
300 Marietta St NW, Atlanta, GA 30313 Open for dinner at 5 pm M-F, Saturdays 11 am – midnight, Sunday noon – 9 pm
In the heart of downtown Atlanta, near Centennial Park, and up a set of stairs, Der Biergarten manages to capture the feel of a classic German beer garden, despite not having the usual huge trees and park-like setting. Der Biergarten features a large selection of authentic German beers on tap (often as many as 18 different drafts), available in 16 ounce servings or picture-perfect 1 liter German beer mugs. Specialty cocktails are offered including Bavarian Punch, which is a delicious mix of Blackberry Liqueur, Bacardi Rum, Apple Schnapps, Cranberry, and OJ, or the Raddler, which is a refreshing mix of Warsteiner Pilsner and Sprite.
Der Biergarten has a white tablecloth dining room, a separate room with foosball and shuffleboard tables, plus covered and uncovered patio areas. The patio areas have traditional bench tables which are ideal for large groups or for sharing with other patrons, just like in Munich's famous biergartens.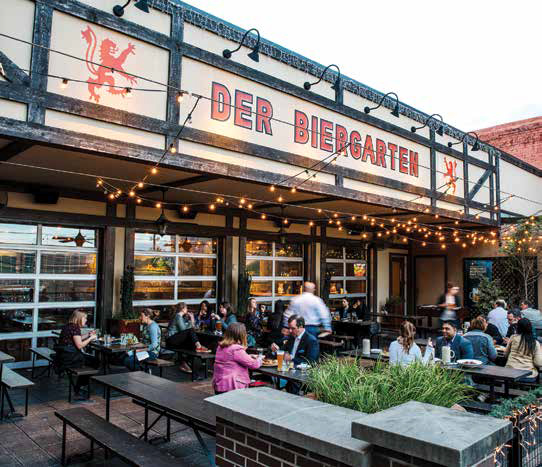 The Garden Terrace at Der Biergarten offers views of Downtown Atlanta.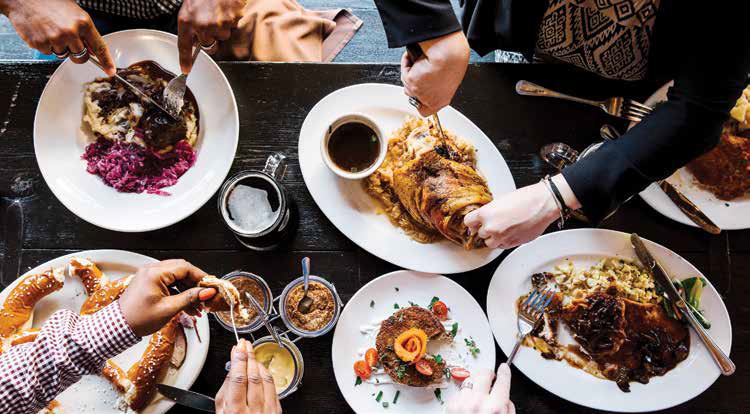 Top left; clockwise: Rinderrouladen: slow cooked beef roulades, onions, bacon, German pickles, served with gravy, mashed potatoes and red cabbage. Schweinshaxe: rotisserie pork shank with sauerkraut. Jagerschnitzel: lightly breaded pork, hunters sauce of mushroom, bacon, onion, served over spatzle. Geräucherter Lachs Auf Reibekuchen: smoked salmon and potato pancake with dill cream sauce at Der Beirgarten. (Photography for Der Biergarten courtesy Andrew Thomas Lee)
The menu features wonderfully authentic and delicious German dishes. For starters, or for a nice shared dish, Gemischte Wurst Und Kaseplatte, a selection of German cured meats, cheeses, mustard and pickles is wunderbar! A must have is the Riesenbretzel, a giant warm pretzel with three kinds of mustard and optional Obatzda (cheese spread). When it comes to entrees, I have a hard choice deciding between the Gegrilltes Hahnchen, a half rotisserie chicken served with jus sauce and fries, or Jagerschnitzel, lightly breaded pork, a Hunters Sauce (mushrooms, bacon, and onion), and spatzle. Spatzle is one of the best dishes in the whole world, in my opinion: it is soft egg noodles boiled to perfection then sauteed in butter and topped with chives, salt and pepper, and (optionally) cheese. My husband's hands-down favorite dish is the uber-delicious Schweinshaxe, which is a rotisserie pork shank (it's pretty big) served with sauerkraut. For side dishes the Gurkensalat (cucumber salad) and Rotkohl (braised red cabbage) are my picks. Don't cheat yourself out of dessert either: the Apfelstrudel Mit Vanilleeis, warm apple strudel with vanilla ice cream, is a real treat!
A fitting German toast is, "Der Gemutlichkeit", pronounced "Dare gaymoot- lich-kite", which means "to cheer and good times"!
Terra Nostra
105 Frazier Ave, Chattanooga, TN 37405 Tuesday – Thursday 4:30 pm – 10 pm, Friday and Saturday 4:30 pm – 11:00 pm, Sunday 4:30 pm – 9:00 pm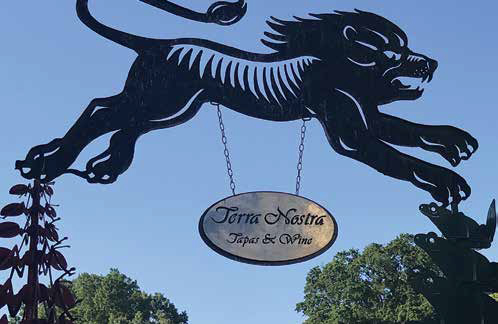 This massive metal sign is the entrance to the courtyard at Terra Nosta.
Remember that patio in Tuscany I mentioned earlier? Terra Nostra on the North Shore of Chattanooga is a nice reminder of that place. Terra Nostra is a tapas and wine bar offering international cuisine (in small plates) from around the world. Tapas are typically Spanish, but Terra Nostra offers tasty treats from Spain, Italy, France, North & South America, Asia, and the Caribbean. We arrived at Terra Nostra one beautiful evening and asked for a table in their courtyard, a narrow corridor with tall brick walls lined with ivy on one side and a painted mural on the other. It was a perfect place to sit.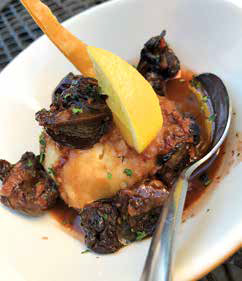 A lemon wedge garnishes Terra Nostra's escargot.
The menu is divided into Meat, Seafood, and Vegetarian sections, and you are free to sample as many items as you wish and to pick and choose from each category. We weren't sure how large the servings were so we started off with a few plates and added a few more choices later. Tapas dining is a casual, relaxed, slower way to enjoy your meal with the added bonus of tasting lots of different dishes.
We started with the Assorted European Olives, a wonderful variety of black, green, and other olives, giant marinated fava beans, delectable hummus, and pita crisp crackers. Next up was the Roasted Red Pepper and Balsamic Cipollinis, a tribute to my husband, Marty Cipollini. After all, ya gotta eat something that has your name, right? The peppers were fantastic and the delectable grilled cipollinis, which are small onions, had a wonderful balsamic sauce with a deep, rich flavor. The Seafood Paella featured saffron rice, shrimp, mussels, pork, and chicken; it was a brilliant mix of tastes and texture. The Bloody Mary Mussels are not always on the menu but the chef was happy to make us some: tender steamed mussels served with a dollop of red sauce reminiscent of a tiny Bloody Mary. The pinnacle of the meal, in my mind, was the Escargot Bourguignon dish, a masterpiece of meaty, garlicky snails in a red wine and shallot sauce, served over mashed potatoes. Magnifico! To top off our meal we ordered the vegetarian pear and walnut quesadilla, rather than a dessert, which was the perfect way to enhance our last sips of wine while enjoying a sweet and nutty treat.
If your summer plans call for distant travel, enjoy and eat well! However, if your plans are to stay closer to home, by all means try these and many other international restaurants in our area to have a "mini-travel" experience while savoring delicious food and a "taste" of other cultures. Buon appetito, y'all!

Kathy Patrick owns Meals on Heels, a personal chef service. Kathy makes entertaining in your home fun, easy and delicious! Enjoy hosting dinner parties, holiday occasions, and other special events with Kathy's expertise. Kathy is happily married to party Cipollini. She enjoys herb gardening and exercising. Reach her at greatfood@mealsonheelsga.com.