Spring Fresh Kitchens and Baths
pring is here and with it a sense of energy and renewal. If you're itching for something a little more inspiring than spring cleaning, consider a refresh for your home's look, specifically the kitchen and bathrooms. These are the workhorses of the home; the rooms you probably spend the most time in. So, why not give them a little TLC? Whether you're into DIY or have bigger plans in mind, here is a guide to the kitchen and bath trends taking over 2018.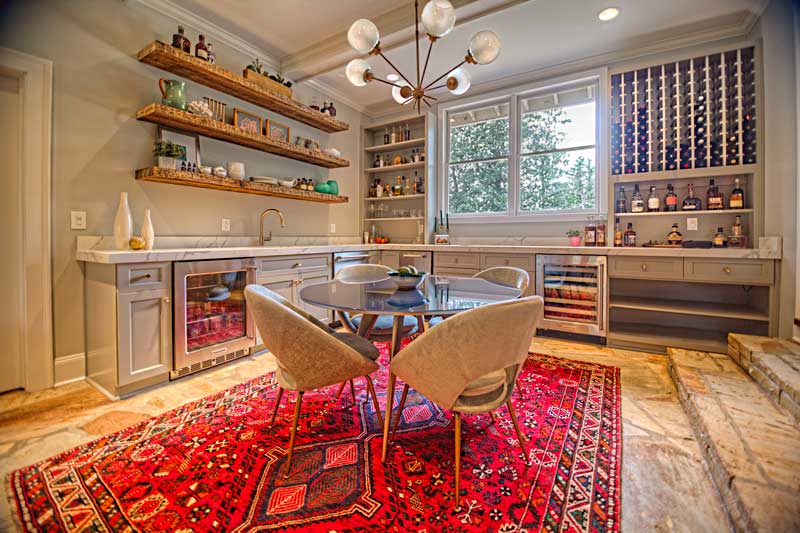 Photos by Patricia Montgomery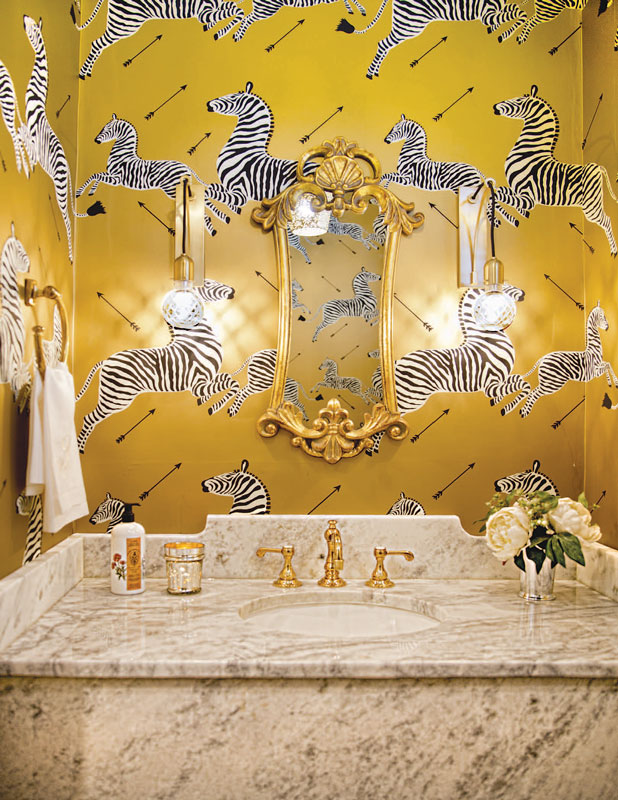 This fun powder bath at the home of John and Ali Freeman features Scalamandre Gold Zebra wallpaper, Hudson Valley sconces, and a Carrara marble vanity. The couple remodeled the space with the help of interior designer Megan Watters.
The kitchen is the heart of the home and is often where people congregate. It should reflect your personal style, whether that's sleek and sophisticated, or relaxed and fun. Gone are the days of boring neutral everything and dark wood cabinets. In kitchen design, expect to see brass and black accents. Now don't be afraid, we're not talking the shiny gold fixtures from the 1980's that haunt our design nightmares. Think more sleek and industrial, matte or antiqued brass. You'll be seeing it everywhere, from faucets and knobs to light fixtures and countertop accents.
A striking partner to warm brass is black. Consider painting an island or bottom cabinets in a matte black. Do your cabinets need more than a paint job but you don't have the budget for a full remodel? A more economical option is to just replace your cabinet doors, especially if the cabinets themselves are still in good shape. Add a few glass door fronts on upper cabinets with black leading for an industrial-chic look.
If you were hoping to jump on the marble trend, it is still quite popular. Marble is a beautiful high-end look but can stain and needs to be re-sealed yearly, making it more of a pain than it's worth especially if you actually use your kitchen. Carrera marble is still a number one seller, and there are many look-alike options available on the market now. For lower maintenance options check out brands like Silestone, Caesarstone, and Quartzite that have perfected the marble look. Only you will know the difference.
Now, you may be thinking white marble, black cabinets, and brass knobs sound kind of cold and modern. Not to fear, adding accents like warm wood and colorful textiles will soften your kitchen space. If you have a bare wall that could use some attention, adding some floating rustic wood shelves with dishes in a single color can make an attractive focal point and a great storage solution. Pick one accent color that really makes you happy and buy matching dishtowels and potholders in it. Adding an antique Persian runner to your kitchen space can make it softer on the eyes and the feet. "Rugs in the kitchen?!" Yes, in fact, the authentic Persian rugs are high quality, meant to take high traffic, and will last you a lifetime. With their intricate designs, they are fantastic at hiding dirt. Just make sure you wipe up any spills with a damp towel. You can find runners starting around $200, a small price to pay for a beautiful statement for your kitchen.

The home of Dr. and Mrs. Matt Cornforth is a Midcentury Modern dream. The reclaimed wood floating shelves and natural stone add texture and interest, while the colorful rugs and plush velvet furniture add a touch of softness and luxury. Designed by Chris Slicker of Dovetail Interiors. Work done by Murphy Construction.
A trend that totally contrasts the aforementioned brass/black/white is using a bright color in a bold way: on the cabinets. If doing all the cabinets in a color scares you, choose only the island, bottom, or upper cabinets. Using neutral colors in the rest of the kitchen will help keep the space from being overwhelming or garish. If you have a large kitchen without an island, a flea market farm table with a fresh coat of paint in a fun color can serve both as prep space and a place for friends and family to gather.
Another view into the Cornforth kitchen.
Lighting is extremely important in a kitchen and needs to be versatile when it's a multi-use space. Good old can lights are great for task lighting but can be too bright for entertaining. Adding a dimmer is an easy and inexpensive way to give you more options. If you have an island, look for eye-catching pendants in brass or black. Accent lighting has come a long way as well, with LED options for under-cabinet, in-cabinet, toe kick, and even in-drawer lights. If you want to get really high-tech, all of these lights can be synced to your Google Home or Alexa device and choreographed for the appropriate occasion.
The bathroom is another space that can really date a home. There are some very easy ways to update the look of your bathroom without spending a fortune or committing to a complete gut job. Wallpaper is one of the biggest trends in bathrooms this year, and it's back with a vengeance. Forget everything you thought you knew about wallpaper. It's bold, modern, and easier than ever to do. Look for bright colors, geometric patterns, and metallic accents. Several companies are making peel-and-stick wallpapers now, so there's no messy glue to deal with, and you can easily remove it when you're tired of it. This is an especially great option for powder rooms where you want to make a big statement in a small space that has minimal steam. Check out websites like wallsneedlove.com, wayfair.com, and etsy.com for tons of fun patterns.
If a tranquil, spa-like atmosphere is what you're after, stick to whites and grays with natural textures like wood and stone. Marble and slate are great options for bathrooms. Think outside the box and look for floor tiles that can be used on the wall. Tile patterns are moving beyond subway and getting creative as well. Herringbone, chevron, and hexagon are just a few of the interesting mosaics you can find. If you're short on space, go ahead and splurge on some luxury towels and aromatherapy candles.
If you are thinking about a total renovation, there are some things to consider that can really add value to your home. Double sinks are always a good idea in a master bath, as well as his and her storage. If you're updating all of your fixtures, opt for low-flow showerheads and water-saving toilets.
Obviously, there is a wide range of options for both kitchens and baths. The real trend is making your home a reflection of your personal style. So, get out there my friends, be bold, and have fun!

Chris Slicker, owner of Dovetail Interiors, is a designer, yoga teacher, wife and dog mom who lives in Rome, Georgia. She enjoys helping her clients create functional and beautiful home environments, and believes that everyone deserves a place they like
coming home to, regardless of the size of the house or budget. In her free time, Chris dabbles in an array of creative endeavors, including cooking, playing music, DIY projects, and taking an excessive amount of pictures of her fur-babies. You can contact her at (918)630-1099 or cwslick@gmail.com.