The Jerry Project
ack stared at the Household Chore List posted on the frig and asked incredulously, "We have a dinner schedule?" I concocted not just a dinner schedule, but an itemized list of seventeen daily and weekly chores. You see, there were two people living in the house and both were working full time. One person was doing the lion's share of meal planning, grocery shopping, meal prepping, bed making, breakfast cooking, trash toting and she finally put her big foot down. There's a new sheriff in town and even though she only has one bullet in her gun, she is a force to be reckoned with.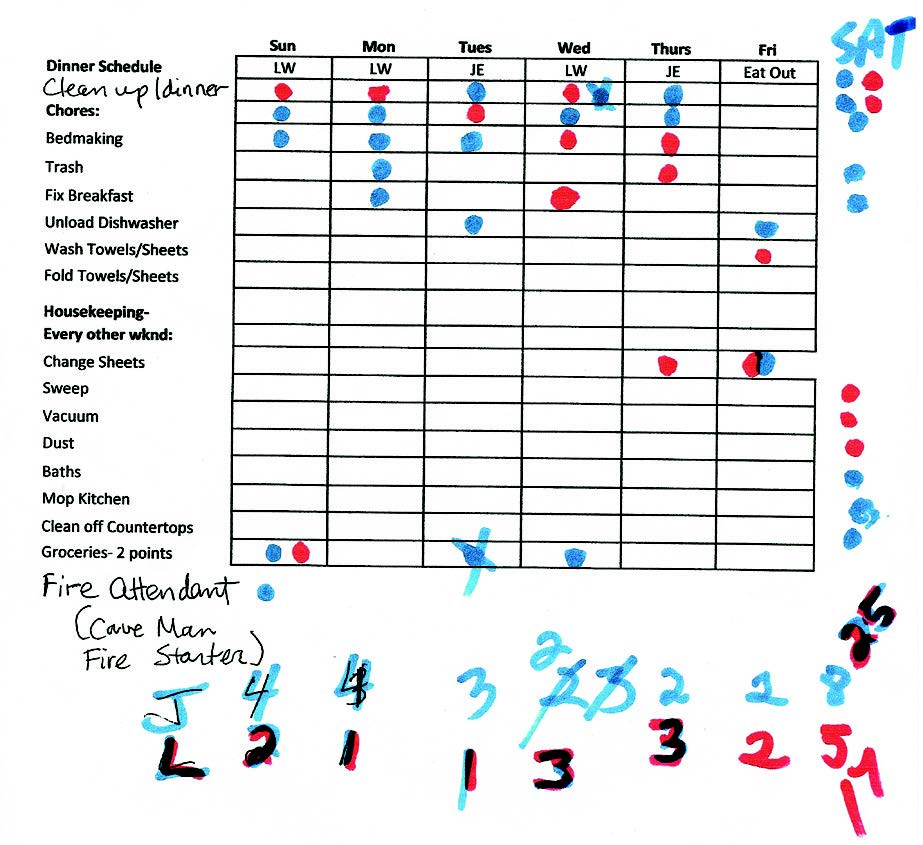 The Dinner Schedule on the family's refrigerator.
Me: So here is the schedule. I cook three nights and you cook three nights. The nights I cook, you clean up and vise versa. Oh, and we are going out for dinner one night every weekend.
Jerry: Okay (A little stunned.) Wait! Does that mean I have to plan my meals too?
Me: Oh yes….
I devised a point system for all chores to be completed. They are checked off and tallied daily. During dinner with Jack, Jerry's 14-year-old son, we had a discussion about the new project.
Jack: What do you get when you win the most points for the week?
Jerry: You get to stay out of the dog house.
Me: There's harmony in our household.
Jerry: And peace on earth and goodwill towards men.
The first week did not go as I expected. Jerry, being a total type A personality and a fierce competitor, was making the bed when I let the dog out, running to the kitchen to whip up an omelet for our breakfast, and demanding more points for taking the trash to the dump. He astounded me when I found him looking up recipes online and fixing some amazing meals. He made hot and sour soup and it was the best I've ever had. His quiche was better than mine!
You get more points for certain tasks like going to the grocery store, which I hate. Jerry was racking up the points, gleefully going to the store every other day, until I told him that we were buying too many groceries. One cold night, I gave him extra points for building a fire in our fireplace. I wrote on the list: Fire Attendant. When he saw it he commented, "Fire attendant? We don't live in Downton Abbey times. How about Cave Man Fire Starter?"
What was a really a welcomed change was going out on a "Date Night" every weekend. We tried a new Thai restaurant, had tapas and craft beer at a cool bar, and shared sushi with Jack on three separate weekends. It's now something we look forward to doing and even though there are no actual points on the board, he's still earning points in my book big time. For the record, Jerry has won the weekly points by a landslide for four straight weeks.
One of my girlfriends came to visit last weekend and after dinner, Jerry was busy cleaning up the kitchen. She and I were lingering over dinner, enjoying some wine. She grinned and whispered, "How did you come up with this idea? You're ingenious!" Who knew? But there really is peace and harmony in our house. Sister, can I hear an "Amen?!"