The Jewel of The Golden Isles
ust off the coast of Georgia, there is a magical island where wild horses roam along 17 miles of beach. It is the largest and most southern of Georgia's Sea Islands. With 36,415 acres of mostly undeveloped land, Cumberland Island boasts marshes, mudflats, and tidal creeks, as well as a host of wildlife including wild horses, turkeys, mink, alligators, and wild boar amid its three separate ecosystems: forest, beach, and marsh.
Cumberland has been on my To Do list for quite some time, but poor planning kept me from going until this year. The island is only accessible via boat or ferry, with no bridges running to the mainland, and only has two options for lodging: camping and Greyfield Inn.
Being an experienced backpacker and camper, and for the sake of adventure, my companions and I chose to hike in to the Hickory Hill campsite, about five miles from the ferry landing and ranger station.
The ferry ride to the island offered us a sea breeze, great views of the ocean and surrounding land mass, and a glimpse of a dolphin pod swimming along the coast.
Upon arrival, we attended an orientation for campers by the caretaker who provided a map and information on the island's wildlife.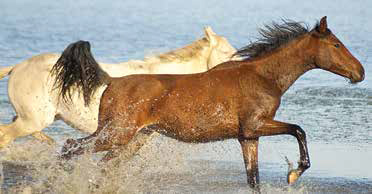 Wild horses can be seen frolicking in the surf along 18 miles of undeveloped beaches.
We then chose to walk down to the Dungeness Ruins, a relic from the Carnegie era, before we proceeded on to our campsite. Dungeness was originally built by Nathaniel Greene's widow, Catharine Littlefield Greene and her second husband, Phineas Miller, in the 1780's. Almost a century later, Thomas Carnegie, brother of the illustrious Andrew Carnegie, and his wife Lucy bought the land for a winter retreat and began building on the site of the original Dungeness mansion, which had burned in 1866. They kept the name and added pools, a golf course, and 40 smaller buildings to house the 200 servants that worked at the mansion. Lucy Carnegie also had other estates built on the island for her children, including Greyfield, but the family left the island after the Great Depression, leaving Dungeness vacant. In 1959 the house was burned by a poacher, and all that remains are ruins of the once great house. In 1954, members of the Carnegie family invited the National Park Service to assess the suitability of the island for preservation, and began the process which would eventually allow the island to become a National Seashore.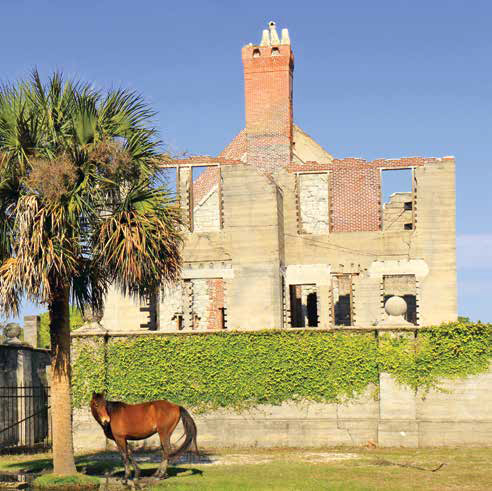 The ruins of Dungeness are a perennial attraction for visitors to the island.
The walk to the ruins is about 20 minutes along a very well kept path from the ferry landing, with tall oaks draped with Spanish moss lining the trail. The caretaker had informed us at orientation that it was foal season for the horses, and not to disturb them as they are feral and will bite if you get too close or disturb them. So we kept our distance, but were still plenty close to admire the beautiful creatures. They didn't seem perturbed by our presence at all and mostly ignored us. If you're worried about not catching a glimpse of one while you're visiting, don't worry. The chances of you not seeing a wild horse are slim; there are over 150 on the island. In addition to seeing them along the paths, we encountered them in our campsite as well.
We were also visited by armadillos, opossums, and raccoons at camp. During the evening twilight hours, sea turtles can be seen lumbering out to sea, and horses are known to trot along the beach.
There are five different campgrounds on Cumberland Island. Sea Camp is closest to the dock and has all the amenities: bathrooms, showers, and potable water spigots. Stafford beach is a bit further along but still has bathrooms and showers, although you have to filter your water. The next campground and beginning of the wilderness campgrounds is Hickory Hill, followed by Yankee Paradise, and Brickhill Bluff. These sites have water sources from sulfur wells, which have to be filtered, and unfortunately do not allow fires, other than stoves for cooking.
We chose Hickory Hill, which is 5.5 miles from the dock; our excursion to Dungeness added roughly 2 miles to our hike. A central road runs up the island, with the Parallel Trail following the same course with about .5 miles separating the two. Both are very well maintained and fairly shaded, and the road is a great place to collect shark teeth, so it was a pleasant walk up to Hickory Hill in April. We went armed with the map that the park rangers had provided; indeed, they seemed especially keen to make sure we had this map, so we figured it was what we needed. I had previously downloaded a more detailed map onto my phone, but there is no cell service on the island and obviously no way to charge your device.
For any future visitors: the map provided is not very detailed. The trail to our water source was not marked on the map at all, and it pretty much only showed the main Parallel Trail, and the trails out to the beaches, which were underestimated in distance. The trails being well blazed, however, we found our way easily to the campground, although we had a few mishaps finding our water source, which took us through the swamps, where we spotted water moccasins and baby alligators. Luckily, some fellow campers were able to point us in the right direction, as some other campers had pointed them in two days previous. It ended up being about two additional miles away, between Hickory Hill and Yankee Paradise.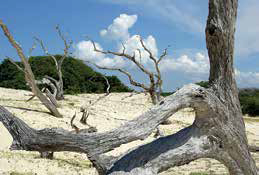 Driftwood forms beautiful natural sculptures along the shore.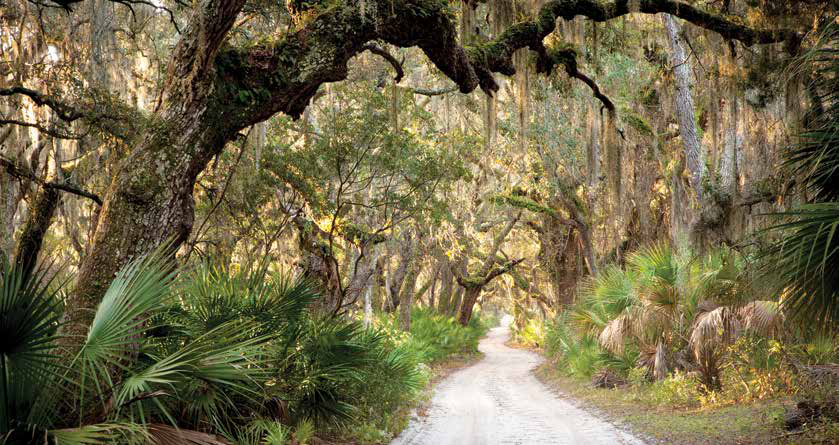 A winding path through Cumberland's maritime forest.
Once we found it, it smelled strongly of sulfur (rotten eggs) even after being filtered. A five minute boil helped out tremendously, though, and we were well supplied to spend a couple of lazy days at our quiet, peaceful campsite, which was sheltered by twisting oak trees and blooming flora providing ample privacy. After the long hike, made even longer by finding the water source, we slept like babies. We were far enough from our fellow campers that no one was too close for comfort, and there was a trail nearby for beach access. We did have to combat no-see-ums (tiny, biting midges), mosquitoes, and ticks, so come armed with more bug spray than you think you need.
To the northwest of our campground was Plum Orchard, an estate built for another member of the Carnegie family. Beautifully maintained, the Georgian Revival mansion, built in 1898, allows visitors to step back in time with a glimpse into the late 19th and early 20th centuries. Parquet floors, Tiffany lamps, and intricate trim work adorn the space. A daily guided tour of the mansion, as well as the island's other sights, takes off from Sea Camp each morning and lasts all day, but hikers can also hike up to the site to explore on their own.
This beautiful and majestic island can really only be described as magical. It's one of the most beautiful, diverse, and interesting places I've been in the United States. About 90% of the island is protected and undeveloped. The abundant flora and fauna, the quiet, almost empty beaches, the ruins and preserved buildings combine to make this place feel like something out of a fairy tale.
I recommend staying at one of the developed campsites close to the dock unless you're an experienced camper, but wherever you stay, Cumberland is well worth a visit and has plenty of space to explore. There really is something for everyone, with rentable bicycles, fishing, miles of trails to hike, shells along the beach and shark teeth along the roads for collecting, and plenty to see.

Rebecca Pikula lives near Atlanta with her husband of five years. She attended Georgia College and State University. She has visited 14 countries and 36 states, and enjoys travelling and motorcycles, sometimes simultaneously.