Available at all Advertisers from the current issue of NW Georgia Living – see Ad Directory Listing.
Other Locations: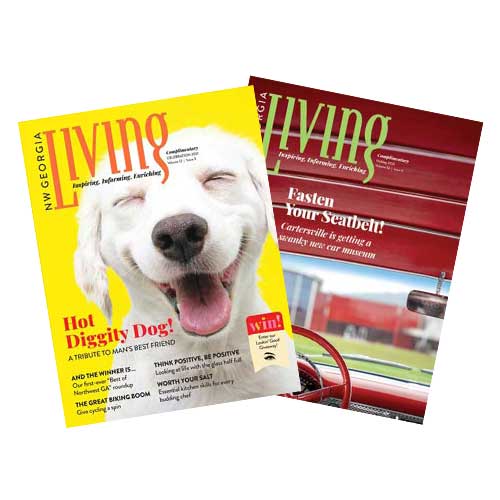 Adairsville

Food Lion, Adairsville Hwy
Blue Agave, Legacy Way (S)
Peacock Junction Antique Mall, Railroad Street (S)
Cedartown
Bradford's Pharmacy, Main Street
Ed's Cleaners, Main Street
Polk Veterinary Care, N. Main Street
Zorba's Restaurant, N. Main Street (S)
Petro's Pizza Restaurant, Buchanan Hwy (S)
Calhoun
Animal Hospital of Gordon County, Red Bud Road
Christian & Jake's Bistro, Hwy. 53 SE (S)
El Puebilito, S. Park Avenue (S)
Food Lion, Red Bud Road
Cartersville
Adam's Bar-B-Q, Felton Street (S)
Agan's Bakery, W. Main Street (S)
Booth Western Museum, Museum Drive
Clarence Brown Conference Center, Georgia Hwy 20
El Nopal, Old Mill Road (S)
Ingles, Joe Frank Harris Pky SE and West Avenue
Okinawa, E. Tennessee Street (S)
Las Palmas, Main Street (S)
John Boy's Home Cooking, Joe Frank Harris Pkwy (S)
Cartersville Downtown Development Authority
Copperwood on Main (S)
It's About Time Boutique
Cave Spring
Casey's Food Store, Rome Road
The Peddler, Alabama St.
Rockmart
Triangle Foods, Nathan Dean Bypass (S)
Ingles, Nathan Dean Bypass
Rome
Ana's Rotels Deli, Broad Street (S)
Bella Roma Italian Grill, Braves Boulevard (S)
DiPrima's Shoes, Martha Berry Boulevard (S)
Duffy's Deli, Central Plaza Shopping Center (S)
John Henry's, Broad Street (S)
Las Palmas, Riverside Parkway (S)
Las Palmas, Shorter Avenue (S)
Living & Giving, Broad Street (S)
Los Portales, Shorter Avenue (S)
Mi Alazan, Central Plaza Shopping Center (S)
River City Antique Mall, Spider Webb Drive
Rome Convention & Visitors Bureau/Last Stop Gift Shop, Civic Center Dr.
Shane's Rib Shack, Riverside Parkway (S)
YMCA, 2nd Avenue (S)
Pick 'o Deli, Dean Avenue (S)
Pick 'o Deli, Riverside Parkway (S)
Gondola Pizza, Shorter Avenue (S)
Truitt's Chick-fil-A, Shorter Ave. (S)

(S) – magazine stand